W ... W ... W ... Wednesday
Hosted by Should Be Reading
To play along just answer the following three questions:
What are you currently reading?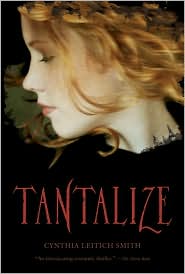 I am reading Tantalize by Cynthia Leitich Smith. I just started so I'm about 70 pages in. I've heard mixed thing about this one so we'll see.
What did you recently finish reading?
Wintergirls by Laurie Halse Anderson. I actually finished this one late Monday night. I found that I couldn't put it down even if parts of it were a little sad. Review coming soon.
Beastly by Alex Finn. I finished one rather quickly and I do like getting the story from the beast perspective. I'm also planning on going to see the movie.
Mockingjay b Suzanne Collins. I am so glad that I finally was able to read and finish this book. I got the first two on audiobook but this one I had a hard copy of and it's definitely for keeps.
Zel by Donna Jo Napoli. It is a Rapunzel tale and you get perspective from not only Zel but the witch and the prince.
What do you think you'll read next?
If I end up liking Tantalize then I will read this follow up Eternal by Cynthis Leitich Smith. If I don't like it, well I'm not sure, I just hope I like it.