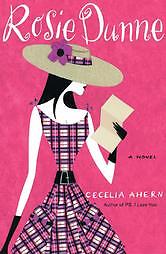 Playing Time: 11 hours 35 mins.
Read by: Anna Fields
Published on February 9, 2005
When Alex suddenly has to relocate from Dublin to Boston, Rosie is left without her best friend since childhood. So, her big plan is to move to Boston after her debs ball (prom) and not only be reunited with her best friend but also go to college. But on the night she is supposed to leave she receives news that will keep her in Dublin indefinitely. Their friendship spans the course of 50 years so we are able to see their journey through life in a series of IMs, e-mails, letters, and chat rooms. As Rosie finds out early, most things in life don't go according to plan but we have to play the cards we're dealt.
This is a charming and frustrating tale of two friends.
They have a beautiful friendship filled with ups and downs, in which, for the most part, they support each other.
There were times when I laughed and times when I wanted to yell at them both. It's one of those things where you wish they would just tell each other the truth! I was pulling for them to be together the whole book. I had no idea that it would be read through a series of letters, etc. and once I found out, I was a little wry. However, as I continued to read I began to like this book more and more. One of the things I loved was how real this story felt.
All of the characters were likable and I was surprised by how much we get to know them all.
Life isn't a straight road you travel without any problems. Rosie's road was filled with many obstacles that she had to overcome and she is lucky to have a friend like Alex to help her through.
This is my first audiobook of the year and I couldn't have picked a better book to start off. Anna Fields read it beautifully. I loved the Irish accent and it was easy to listen to. I literally devoured this book in one eleven hour setting. One thing that takes some getting used to is how she has to indicate who is speaking; reading the IMs got a little irritating at times. For example, having to say "From Rosie to Alex" or "From Alex to Kate" over and over again. It was necessary and for that reason, you may want to read it instead. Also, it was a little difficult to keep up with how much time was passing. It seems to go by pretty quickly from chapter to chapter but I suppose you have to move it along somehow. Though I did enjoy the story, there were a couple points where it felt like it was taking to too long to get to the end. In spite of that, this was a wonderful story with a realistic outlook on life, love and friendship. I will probably revisit this story in the future so I can be frustrated and fall in love all over again.