Whisper Stories in My Ear 2011 Audiobook Challenge hosted by Bewitched Bookworms Click the link if you want to try it too! My progress is listed below!!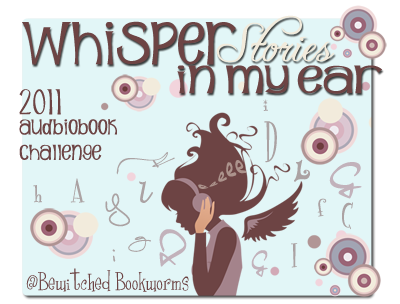 The goal is to read at least twelve (12) audiobooks (no matter the length). Twelve is the minimum to be entered in the Grand Prize at the end of the Year. The other requirement is you have to say that you listened to the audiobook version of the book, who was the narrator, the length of time the audiobook ran and your separate rating/impression for the audiobook (how you liked the narration of the story beyond what you thought of the story itself). The challenge runs from January 1st to December 31st, 2011.
3 audio books
34 hours and 23 minutes listened.